The fabric that makes up international development has many threads, each making a vital contribution.  Fortunately the edges around the boxes of 'who does what' are more blurred than they were even a decade ago when the transfer of financial resources and expertise usually flowed from 'North' to 'South'. Further blurring of roles is occurring between private sector, public sector and civil society in the areas of health, education, financial inclusion, diversity, job creation and the environment. Change is good.
Interesting pairings and partnerships have emerged from all sectors to tackle societal issues. At the World Economic Forum last month the Prime Minister of Canada, Justin Trudeau, sat alongside Girls' Education Activist and Nobel Peace Prize winner, Malala Yousafzai to discuss the value of diversity and equal opportunities for all. In the United States Amazon, Berkshire and JP Morgan have just announced the creation of a new healthcare company that will help US employees find quality healthcare at a reasonable cost.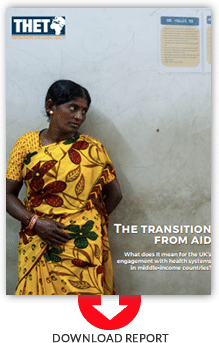 It's tempting to attribute the change in attitudes around tackling mega-issues to the ushering in of the Sustainable Development Goals (SDGs), which called for actors beyond the usual suspects – governments and charities – to intervene. As the SDGs were being developed, the private sector realised that it must come to the fore and work in partnership to address universal calls to eradicate poverty, ensure equality and provide healthcare. This universality of need has become apparent in many sectors, health being just one. Worryingly, the world faces a shortfall of 18 million health workers by 2030 and this crisis is affecting many nations irrespective of Gross Domestic Product (GDP), population size or economic forecasts.
For example, India and the UK – two countries with many stark contrasts – share a crisis in health care. The UK has one of the lowest numbers of practising doctors per population in the EU. With increased demand, funding constraints and an on-going surge in illness, the National Health Service (NHS) struggles to cope. Whilst India, a middle-income country with one of the fastest growing economies has one of the lowest per capita health spend in the world.  Two countries, worlds apart in many ways but closely aligned in others.
In order to solve this global health crisis we must work together. This is particularly true as we see donors changing how they give, to whom and on which criteria they base their decisions. Despite rising GDP in many countries, nations are often still in great need of significant investment yet traditional official development assistance is drying up.
The role of businesses is vital if we are to adapt to the changing forms of aid. A growing number of companies are wrestling with how to move beyond traditional philanthropic donations to embedded programmes based on business cases and sound investing.  For example, Barclay's acknowledges that "the success of our business is linked to the growth of the societies in which we operate".
This 'win-win' approach is an understanding we all share but companies often struggle to prioritise geographies where they can make the greatest contribution. Discussions regarding urban/rural emphasis; core markets vs. most neglected areas; best value for money interventions compared to 'going the last mile', can pose difficulties for companies who are dedicated to contributing to the SDGs' success. Returning to India, for example, with a population of over 1.3 billion, the sheer volume of possible customers is almost unmatched and investing in an Indian social enterprise would be a sound business investment while having a positive effect on society. But, one might argue that companies should be helping the most marginalised countries even though it may not make the best business sense.
To aid thinking around this growing challenge, THET has released The Transition from Aid paper which lays these difficult discussions on the table and helps businesses to think about how their philanthropic and business strategies align… or not.
In the paper we make the case that the UK's engagement in middle-income countries (MICs) is changing and rightly so. It forces the reader to think about the implications of 'switching off' aid for some of the poorest people in the world who are living in countries with the brightest economic futures. The paper argues that the UK's healthcare sector should be seen as a vital component of this revised approach to aid as the economies of MICs continue to grow.
Whilst the paper focuses on healthcare the argument is applicable to a multitude of SDGs from education to human rights. The paper can be used as a conversation piece to get teams together in companies whether they are on the 'business' side or the 'corporate responsibility' side to address the challenges involved in the transition from aid.
We welcome your thoughts.