The interviews with five Business Fights Poverty Lead Partners, Primark, Unilever, Anglo American, Standard Chartered and Mastercard Center for Inclusive Growth, focussed on two areas. Firstly, how their companies are currently supporting social entrepreneurs and secondly if and how their companies are addressing the care economy through workplace policies. 
These lines of questioning led to 4 overarching insights:
Companies need to better understand how care impacts their business

Workplace policies can offer a springboard to engage with care enterprises (e.g. responsible recruitment of domestic workers, responsible sourcing of cleaning services)

Companies with extensive supply chains could help enterprises achieve scale (companies can be a bridge essentially linking their workers with social enterprises to help them access low cost, quality care services)

Philanthropic entrepreneurship programmes could be more focussed on supporting care enterprises.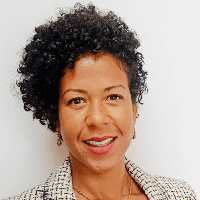 INTERVIEW WITH NATASHA KWAKWA, GLOBAL HEAD, IMPACT AT STANDARD CHARTERED
Why is social innovation important to Standard Chartered and why did you develop an entrepreneurship programme?
Standard Chartered bank is 170 yrs old and employs 85 000 people – we simply wouldn't be where we are today without innovation. Innovation is what is keeping us thriving – it's a core enabler of our business and critical to our future sustainability. We have to be alert to the needs and aspirations of the communities where we operate in order to understand and know our 59 markets. Entrepreneurship is a natural fit for us – in markets where there are not enough jobs to go around micro businesses are the engines of growth. And there is a real gap that still exists – a lack of access to finance.
How did you identify the sorts of entrepreneurs you want to support? Through our community initiatives we decided to double down on two main areas – firstly young disadvantaged women – supporting them into self-employment as livelihood entrepreneurs because we recognise that if women are left behind communities are not going to thrive, yet there may not be enough jobs to go around. This is why we also target a second audience: we look for small businesses that are predominantly women owned and have the potential for rapid growth, including by harnessing technology. We haven't had a specific focus on the care economy, but recognise that we probably will be supporting entrepreneurs in this space because women tend to invest in businesses that support their families and communities.
Does support differ depending on what stage of the journey the entrepreneurs are at? Yes it differs. For our livelihood entrepreneurs that might be employing 1 or 2 people – their needs and aspirations are different. We provide lots of coaching and mentoring support via staff or charity partners on the basics – how to set up, how banking works, how to access finance, a sort of 'business 101'. For our 'Women in Tech Programme' or those entrepreneurs that have aspirations to grow – such as Naom at Bena Care – who's business provides affordable healthcare at home for older people with long term illness, and has potential to grow across Africa – her needs are different. She already has a structure and has identified a great social issue with limitless potential. So we provide more of an 'acceleration programme'. We partner with business schools and offer access to our network as a bank. We also have a seed funding competition – to develop and test ideas in the marketplace. We need to get them to a place where they are de-risked and can access funds. It's about moving from a philanthropic pre commercial entity to a viable business taking a step towards being able to bank with banks like ours.
Has your business ever employed the services of any of the entrepreneurs you have supported – e.g. procured their services?
It's not our intention to enable micro entrepreneurs we support through philanthropy to be part of our business – although there are some examples of where we have invited our micro businesses to make craft goods for client events and purchased these. That said – as a business, we do have a supplier diversity target – these suppliers tend to be much larger businesses than we target through our philanthropy – at least 40% of newly onboarded suppliers must be diverse, that is, predominantly owned by women, black ethnic minority and disabled people, by 2025. We are working with partners like WeConnect International to help us achieve this. One of the challenges as an MNC and a listed Bank is that we are subject to lots of regulations – such as know your client, know your customer, data privacy, and anti corruption – which are onerous for micro businesses to navigate.
How does your company currently support women to balance work and caring responsibilities in the workplace?
I have had two babies whilst working at Standard Chartered and have valued many of the provisions available. I think the main thing is that the business understands that we need to offer a wide range of options and solutions for people to join us and stay employed with us. This includes hybrid working – it manifests itself differently in different markets due to regulation. Globally, we offer 20 weeks of paid parental leave, regardless of gender, relationship status or how a child comes to permanently join an employee's family. For childcare there is a mixture on offer depending on the market – in the UK we are part of the government child-care voucher system whereby employees pay less tax on childcare payments. In others, we have creches and 'mothers rooms' for breastfeeding women.
For our community programs – the pandemic has pushed us all to think more cleverly on how to provide skilled workers with support via different avenues considering caring responsibilities – for example we have a massive Whatsapp enabled business support network of women-microentrepreneurs in Indonesia. And when we target female entrepreneurs or female participants in our programmes- we consider what time of day the meetings are, how far from home, how will they get there. Is there an online option, a childcare option?
Could you envisage your company supporting entrepreneurs in the care economy? Yes, through our Futuremakers initiatives we would support micro-businesses working on these themes. If there were a clear business case for buying in this support for colleagues, this is something to consider as part of our employment offer. For colleagues that are relocating we do provide information to employees when they migrate to work in a particular market – such as information on housing available; if there was an agency that could vet potential workers (such as domestic help or child care or elder care providers) and if they were female owned then it could be quite an attractive offer to us.
And finally, I do think the care economy is the missing piece of the gender equity puzzle – enabling women to have the time to pursue education & careers. How do we compensate and encourage businesses and governments to make space for it. How do you ensure that MNCs do advocacy in their organisations -so that caring jobs aren't just seen as women's jobs?
READ MORE INTERVIEWS FROM THIS SERIES: