The masks are made from anti-bacterial melt-blown polypropylene, a specialized medical-grade textile that allows air to pass through while filtering out dangerous particles. TOSP is currently manufacturing around 2,000 masks a day.
Armenia instituted a one-month state of emergency on March 16, following a sharp increase in cases of Covid-19. All educational institutions have been shut until the end of the emergency, while the borders with neighbouring Georgia and Iran have been closed. Public events and gatherings with over 20 people are banned.
Arthur Frangyan, CEO of TOSP, said, "To respond to the Covid-19 situation in the country, and specifically to the shortage of masks, we initiated production and distributed the masks among our employees and customers. Then, we started receiving orders from companies and organizations."
Since 2014, the TOSP apparel manufacturing company has been a partner of the United Nations Industrial Development Organization (UNIDO) which is implementing a Russian Federation-funded project providing technical assistance to a large number of Armenian enterprises working in the shoe/leather and textile/garment sectors.
On 20 March, the UNIDO representative in Armenia, Anahit Simonyan, took part in an on-line donor coordination meeting with the Ministry of Health and Deputy Prime Minister's office to discuss the Covid-19 emergency. During the meeting, Simonyan briefed officials about the TOSP mask production. The Ministry of Health requested UNIDO to help with establishing further mask production and coordinating activities among small producer groups. UNIDO was further requested to collect information about local producers of masks and liaise between them and the Ministry of Health.
Two other Yerevan-based garment manufacturing companies with which UNIDO works – Ars-Fine and Lida – have also started producing face masks.
A third phase of the UNIDO project in which TOSP, Ars-Fine and Lida, amongst others, are involved –  Improving Competitiveness of Export-Oriented Industries in Armenia through Modernization and Market Access – is currently underway. With the outbreak of the coronavirus, the UNIDO project team is working to address beneficiaries' emerging needs, conducting ad-hoc surveys of manufacturers to assess their economic situation in this time of crisis. Survey results are being analyzed and summarized, and will subsequently be passed on to the Armenian government.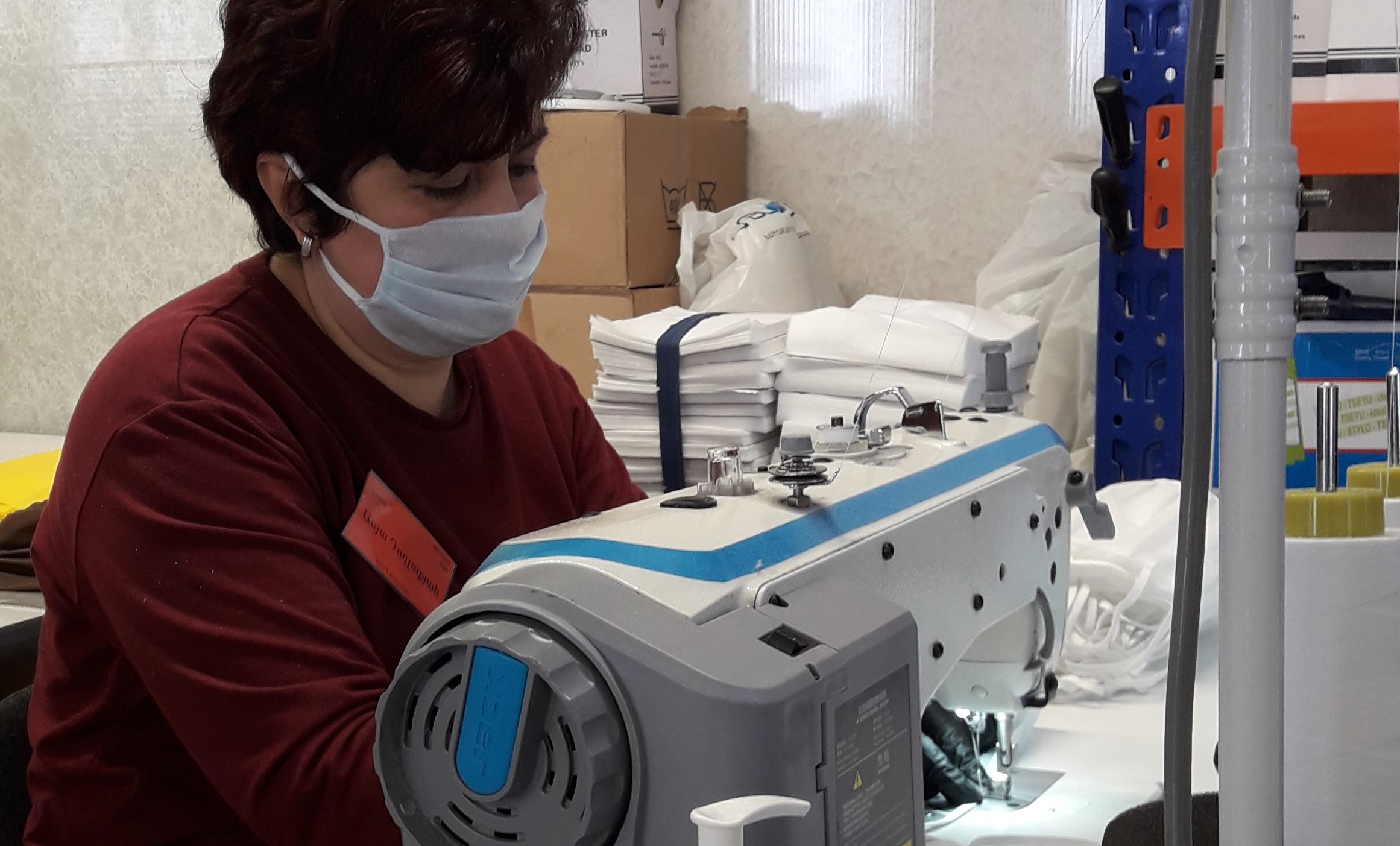 To ensure the continuity and safety of the project's capacity-building activities in the context of the coronavirus, all the project training and master-classes are now taking place online.
On 25 March, Armenia reported 17 new cases, bringing the total number of infected people in the country to 266.
As TOSP workers continued to manufacture masks, the company CEO Frangyan said, "This is our contribution to the Covid-19 outbreak response and to the protective measures that are being undertaken to fight the pandemic."