Urban services such as plastics and waste management, energy, water, and sanitation are essential to well-being and the creation of more circular economies. While the historic rise in mobile connectivity in low- and middle-income countries (LMICs) has helped drive social impact and contribute to economic growth, billions of people still lack access to these basic services. The rapid expansion of urban centres and informal settlements across Africa and Asia, where 90 per cent of global urban growth from now until 2050 will be concentrated, is generally not accompanied by inclusive growth, which means that water shortages, unsanitary conditions, unreliable power provision and inadequate waste management could remain a defining reality for many. Climate change is intensifying these challenges and creating an urgent need for cities to build their resilience to climate shocks and address future climate risks and vulnerabilities.
Providing basic services in rapidly expanding urban areas poses unique challenges to municipalities and state-owned utilities. For instance, extending piped water networks and sewer infrastructure to informal settlements faces a range of financial, technical, and political barriers. The result is often highly disproportionate distribution of basic services between richer neighbourhoods and poorer informal settlements. To tackle these challenges, strong partnerships need to be formed between the public and private sectors to leverage the power of digital technology and ensure there is a path to sustainability and more equitable provision of services. Transitioning to low-carbon, circular economies will also be a fundamental step towards achieving the UN Sustainable Development Goals (SDGs) and international climate targets.
The objective of the GSMA Innovation Fund for Digital Urban Services is to improve the lives of underserved populations by testing, scaling and extracting insights from innovative digital solutions that make essential urban services accessible, reliable, resilient, sustainable and affordable. The fund is open to start-ups, SMEs or social enterprises in Africa, South or Southeast Asia who are leveraging digital technology to deliver urban services with socio-economic, commercial and environmental impact in one of the following sectors: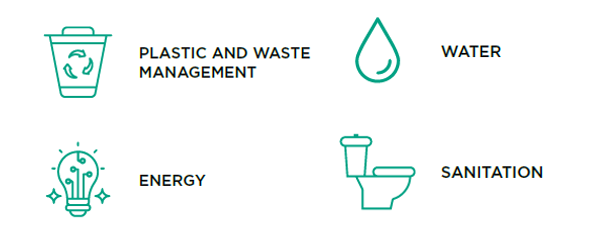 Insights from the Innovation Fund will contribute to the following sector–specific learning agendas:
| | |
| --- | --- |
| PLASTIC AND WASTE MANAGEMENT | Testing the role of digital solutions to optimise collection logistics, enable circular economy solutions, provide increased transparency and traceability for municipalities and upstream buyers, and payment solutions to formalise models and protect low-income collectors. |
| ENERGY | Replicating and scaling models for clean cooking, test and scale generation/storage solutions for urban MSMEs to replace diesel generators, and test electric vehicle models that reach the underserved. |
| WATER | Deepening and broadening evidence for investment by utilities and development finance institutions in PAYG models (household connections and water ATMs) and utility non-revenue water solutions and strengthening these business models. |
| SANITATION | Deepening the evidence for digital tools to support scale of sanitation services through new financial models, improved visibility, and regulatory changes. |
Thanks to support from the UK Foreign, Commonwealth and Development Office (FCDO), the following package will be available to eligible organisations:
Grant funding between £100,000 and £250,000 to support projects over 15 to 18 months
Bootcamp (a programme of expert-led sessions and targeted networking) and regular online clinics on topics such as product or service improvement, human-centered design and usability testing;
Learning exchange opportunities with other grantees and networking opportunities with other GSMA partners;
Monitoring and evaluation support to evidence socio-economic impact and promote product improvement;
Facilitation of relationships with mobile operators and public sector organisations where relevant;
Opportunity to increase your visibility and raising your profile to potential investors and partners through profiling in GSMA publications, social media and events.
For more information on eligibility, see our Terms and Conditions.
Applications will be assessed through a two-stage application process, and the window for submitting pitches will be open between 17 May and 2 July 2021.
We will be hosting a series of sector-specific webinars during the week of 7 June, each of which will include an overview of the Fund and address frequently asked questions:
| | |
| --- | --- |
| Monday, 7 June (10:00 -11:30 UTC+1) – Plastic and Waste Management | Register Here |
| Tuesday, 8 June (10:00 -11:00 UTC+1) – Sanitation | Register Here |
| Wednesday, 9 June (10:00 -11:00 UTC+1) – Water | Register Here |
| Thursday, 10 June (10:00 -11:00 UTC+1) – Energy | Register Here |
Hear from past grantees, other industry funders, and enabling organisations on the state of digital tools for service providers, and explore the upcoming opportunities for innovators from the The GSMA Innovation Fund for Digital Urban Services.
For more information or to register for the webinars, click here.
You can also learn more about the specific kinds of innovations or projects the Fund will target by reading our FAQs and by downloading our new report on Supporting Innovation in Digital Urban Services.
For detailed information and requirements for the application process, please click here.